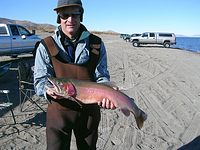 Fly fishing Tahoe in Northern Nevada is often overlooked, while actually, our proximity to outstanding fisheries is beyond compare. Our "Local Waters" for locals and visitors alike, extend from Pyramid Lake to the north, to the high altitude lakes of Yosemite National Park to the south. From Nevada's desert lakes, reservoirs' and rolling rivers to the East and California's Salmon and Steelhead rivers to the West. Giant historic Lahanton cutthroat to leery and colorful Golden trout are all within reasonable driving distances of The Angler's Edge.
Our guides know these waters, spend their time on these waters and can make a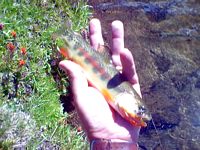 The area hosts numerous lakes, rivers, streams and creeks stocked by various state, county and local agencies, as well as trophy catch and release wild trout areas such as the East Fork of the Carson River just outside Markleeville, California and the Rosaschi Ranch section of the East Walker River in Nevada.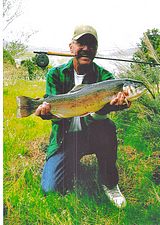 Crystal clear, glacier fed. high altitude lakes holding Rainbow, Brook, Brown, Cutthroat and Golden Trout are right here in our backyard. The solitude and scenic beauty of the area is second to none and holds countless breathtaking views awaiting personal discovery.
While the area entertains numerous "drive up" accessible locations for great fishing, spectacular scenery and phenomenal fishing awaits for those who are willing to hike 30 minutes (or more) from their bumper. Whether you're an addict to fly fishing or an all around outdoor enthusiast, the Eastern Sierra is sure to hold something special for you. You'll certainly want to be sure and bring your camera along to document the views as well as those once in a life time catches you're sure to land while you're here.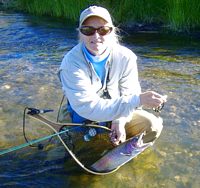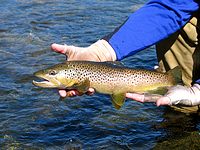 Pack a 3 weight for creeks that have held wild trout for a century. Gear up the 6 weight with a big bug for long casts on Caples Lake for Mackinaw Trout (that's right, Lake Trout on a fly rod) or lumbering logs laying deep in the East Walker River. Witness crystal clear glacial lakes that struggle to become iced off in July, holding Golden Trout waiting for a # 20 or smaller adams. Fish for wild trout on rivers that shared stagecoach trails of by-gone days and loose yourself in the history of the gold & silver rush, and the hearty souls that settled the West.